By BERNARD S. MASON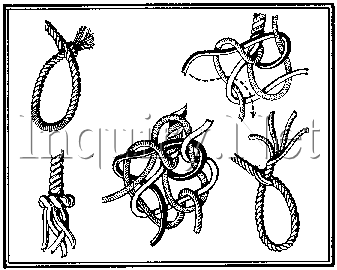 48. Honda for the Maguey Rope.
Rope seems to be as old as mankind itself. All primitive peoples seem to have discovered some sort of material out of which they could produce twine and rope. An old Chippewa: Indian taught me the method by which his people made rope from the inner back of basswood, and under his supervision I produced about forty feet of 3/8 inch basswood rope which I turned into a very successful throwing lariat.
Just what people in the history of the human race was the first to make a lariat out of a rope, and exactly what materials were used in its construction, are questions, however, which cannot be answered with authority. But the development of the lariat seems to be closely associated with the history of the horse-the handling of animals necessitated the use of rope of some type. And since it was evidently around the horse that the lariat was evolved, the chances are that the materials used were either horsehair or rawhide, both of which are obtainable from the animals themselves. Many think the most primitive riata was horsehair.
HORSEHIDE AND RAWHIDE LARIATS
Hair lariats were extremely common in the early days of the West and in Mexico and are still made occasionally by the Mexicans and certain tribes of Indians. Friends of mine tell me that among the French peasants of some sections horsehair rope is still in common use today. It is a rare article among the roping cowboys in this country, however, being more difficult to produce, more expensive, and less efficient than modern hemp rope.
Then, too, hair ropes are often a little light in weight for good roping, and are inclined to wear up rough with use, not to speak of their tendency toward kinking. While they served their purpose in the early days, they have not been able to compete with modern rope for strength or efficiency, and are seldom seen outside of the Wild `Vest shows and the curio shops where they help to make the picture of the old time West. They can still be purchased through the manufacturers of spinning ropes.
The standard rope of the pioneer days of the West was the rawhide lariat, made of buffalo or horse hide. Although rare, there is an occasional ranch hand today who finds these old time sogas more to his liking than any of the modern inventions. Rawhide lariats are frequently extremely heavy and cumbersome, as compared with hemp rope, and often have a weak spot in one of the strands which eventually breaks, rendering the entire rope useless.
In making these leather riatas, the hides were stripped up into long thongs, which were either twisted together as in modern hemp rope, or plaited with a four or eight plait. Much pounding and rolling was necessary to get them smooth, round, and even, and much greasing to soften and water-proof them. The Mexicans make them yet, and they can be purchased through the manufacturers of spinning ropes and lariats.
HEMP LARIATS
Modern hemp rope so far excels the hair and rawhide lariats that it has almost completely replaced them. Today the catch ropes of the cowboys are made of best quality long fiber hemp.
In Chapter I a 35 foot Manila rope, 3/8 inch, was recommended as the best catch rope for beginners to practice with. In actual roping a 7-16 inch rope is used ranging in length from 35 to 45 feet. For beginners to attempt to use one of these heavy long ropes would be a mistake, although with the development of skill one can gradually work up to them. In some sections of the southwest ropes as long as 50 feet are found, but they are not by any means universal.
THE MAGUEY LARIAT
The finest rope obtainable for trick roping and all around use by one interested in roping as a sport is the Mexican maguey rope, obtainable from any cowboy outfitters at a very small cost. These are handmade ropes of agave fiber, four strand, and about 3/8 inch thick. They are hard and smooth in finish, and sufficiently stiff to hold a beautiful noose. Maguey ropes are thoroughly to be recommended to every one interested in learning to rope. After the beginner's stage with the 3/8 inch Manila rope is over, the maguey will supply endless satisfaction.
A special type of honda is used on the maguey rope because of its stiffness and the fact that it is four-strand. This is made by separating the strands with a spike, two on each side, and passing the end through the opening thus formed. The strands of this end are then unraveled and a tucked wall knot tied with them, thus preventing the end from pulling out. Figure 48 illustrates the method, and the construction of the wall knot. Wire the honda as illustrated to add weight.
BRAIDED COTTON LARIATS
With the invention of rope spinning in recent years, the braided cotton sash cord lariat came into prominence. It is the only spinning rope, but, of course, is useless for any of the other purposes to which lariats are put.
"BREAKING IN" NEW ROPE
Any kind of new rope needs to be "broken in" or conditioned before it will work efficiently. Otherwise it will be full of kinks and twists.
This is usually done by tying it behind a wagon or on a saddle and letting it drag in the dirt for half a day. Stretching it between two posts with weights fastened to it for a day or two is a method sometimes used also. Spinning ropes do not need this strenuous treatment-they usually break in quickly with use, but all hemp and maguey riatas should be conditioned in this way.
DAMPNESS
Rain and dampness render Manila rope practically useless for catch purposes-it becomes limp and lifeless, after it has dried out. Catch ropes used in actual roping are waterproofed when new by greasing with Vaseline, or treating with paraffin waterproofing. The average beginner practicing with a new Manila rope will not want to go to this trouble, and will not need to for his rope will stand up for a long period if he takes care of it and does not let it lie out in the dampness when not in use.
Wet spinning ropes are impossible-they should never be allowed to get damp.
The maguey rope when wet or even when slightly damp becomes exceedingly stiff and wiry. So susceptible is it to dampness that it is not a practical rope in sections where there is much rainfall or a constantly damp atmosphere.
CARING FOR LARIAT
No two ropes are just alive. Each one seems to have an individuality of its own. When we get used to doing certain tricks with a certain rope, we find that no other rope seems to do them in just the same way. A roper cannot pick u p another man's ropes and hope to do much with them. So when you get a spinning rope balanced so that it does a certain trick for you, take good care of it and do not leave it lying around. Do not let other people play around with your spinning ropes. Never use a spinning rope to lasso with. To do so may ruin the balance and destroy its usefulness for spinning.
Ropers become attached to their ropes. Often the oldest and least attractive is the dearest because the roper has it "educated" so that it does certain intricate tricks which other ropes will not do, which really means that it is properly balanced for those particular tricks. So "educate" your ropes, and then take care of them.
The mark of a roper is the way he coils his ropes when not in use. Whenever he is through with them, he coils each spinning rope up neatly in a little coil, not more than a foot across, and puts it carefully away, or hangs it up where it will not get damp. Loose, careless coiling is not clone by good ropers, and no roper would ever leave a rope Iying on the ground or floor.