PITCHING: Select level site, away from trees; erect tent with rear to prevailing wind; beware of pitching under trees, good sunshade but, in inclement weather can cause other problems.
CONDENSATION: Can occur in tents; not to be confused with leaking: increase the ventilation!
FIRE PRECAUTIONS: Remember that tents can burn or melt! Follow common sense rules:
| | |
| --- | --- |
| | NO FLAMES: No cooking, heating, or lighting appliances in tents. |
| | MAKE SURE you know fire precautions of site. |
| | MAKE SURE you have a fire extinguisher at hand. |

PEGS: Always drive them into the ground at an angle to obtain the best grip. Pull out peg with extractor or another peg: NOT WITH ELASTIC LOOP. Keep pegs sharp, clean, and protect from tent when stowed. Don't force zips, clean regularly, lubricate with wax candle.
M. pencil 'read'..., if zip is metal.
MILDEW: Completely dry tent out as soon as possible if packed at camp when wet. Check tent at intervals, whilst in storage and make sure minor repairs are attended to. At first sign of Mildew, dry out tent completely, brush carefully and re-waterproof. A weak solution of "Milton" will stop small patches from spreading but will not remove marks. If severe damage has been done it may be necessary to replace panels or repair with a patch.
WATERPROOFING: Oil, Grease or Petrol based aerosols will destroy the waterproofing. These are several waterproofing products available giving full instructions for use.
(?)
STORING: DO NOT store tent in damp conditions, otherwise mildew will attack.
Tent Pitching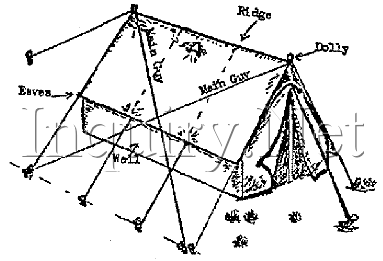 MAIN GUYS: (Storm lashed) in other words, crossed over the sides of tent: they must not touch canvas.
TENT PEGS: in line at 45 to ground for maximum strength.
GUY LINES: should run in line with seams on canvas, avoids creases.
EAVES: should always extend over the walls, then rain water will run off canvas.
See Also:
Traditional Training Handbook
©2003 Baden-Powell Scouts Association