by John Thurman
Camp Chief Gilwell Park
Chapter XXXIV
Project 29:
A Catapult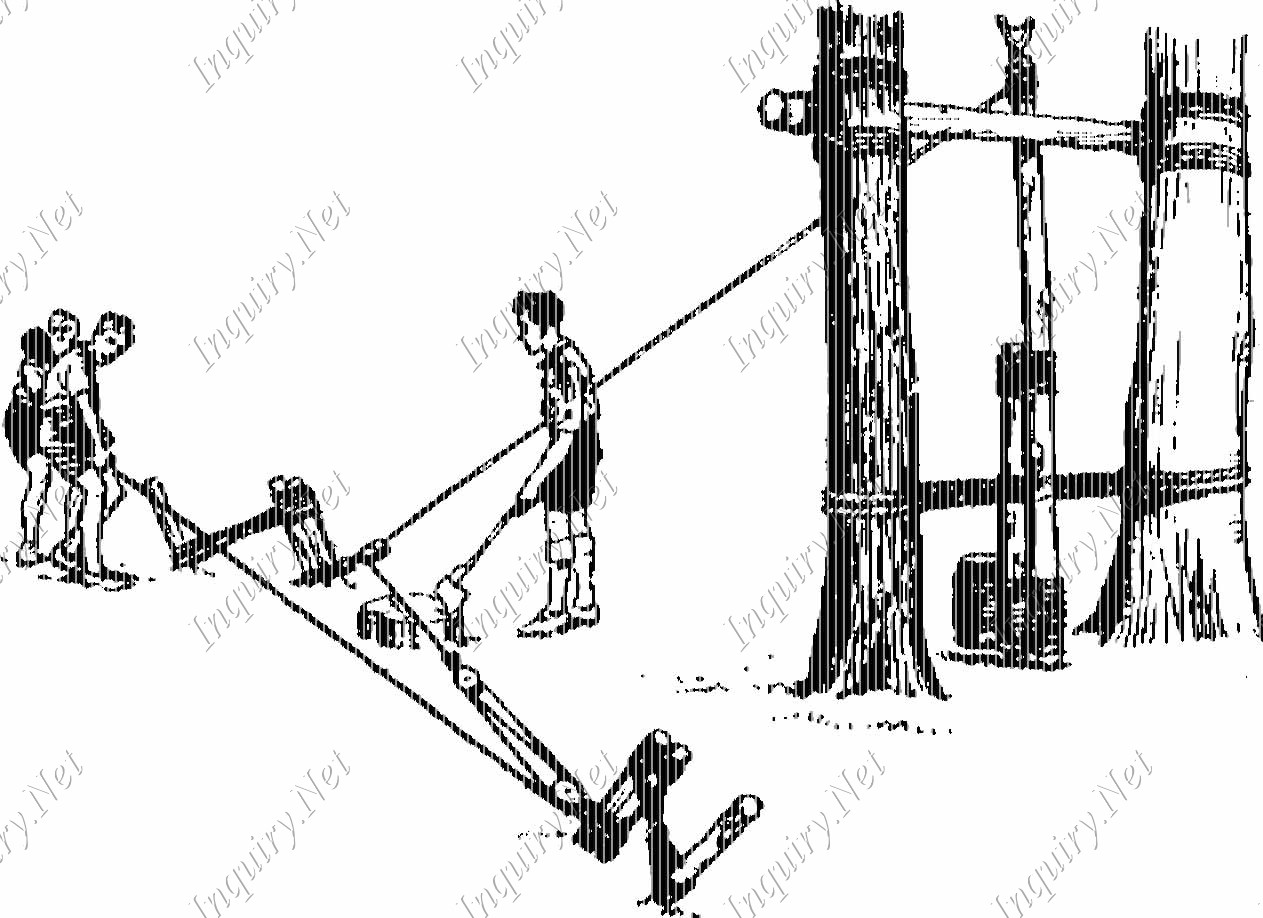 Well now this really is a bit different – there's no doubt about that. I'm not going to say we have ever got it entirely right, but we have had fairly good results. We have, on one very memorable occasion, thrown an ordinary household brick 60 yards from the catapult to where it pitched, and if you ask me who wants to throw a brick 60 yards, anyway, well, we are not concerned merely with being practical, but we are concerned with enjoying ourselves and seeing our Scouts enjoying themselves. They will, I can assure you, after trying it out many times with all sorts of variations, enjoy this as much as most things we can offer.
Gear Required
Ropes:
| | |
| --- | --- |
| | One 2-inch 50-foot for tackle. |
| | One 2-inch 25-foot (old). |
| | One 3-inch 100-foot (old). |
Spars:
| | |
| --- | --- |
| | One 15-foot stout. |
| | One 10-foot stout. |
| | One 5-foot stout. |
Pickets:
| | |
| --- | --- |
| | Six. |
Blocks:
Two single.
One double.
Lashings:
Three 30-foot. One 15-foot. Seven 10-foot.
Oddments:
| | |
| --- | --- |
| | Two suitable trees about 10 feet apart. |
| | Maul. |
| | Sacking for trees. |
| | One axe. |
| | Large forked stick. |
| | Small log. |
| | Chopping block. |
(1) What are we going to do?
Our purpose is to throw a weight a good distance. You want a practical reason? There is one. There are occasions when you need to throw a line across a stream, Sea Scouts might even want to throw a lifeline much farther than they could without some sort of apparatus.
(2) What do we need to achieve it?
We don't need a lot of gear – the list is quite self-explanatory. May I specially draw your attention to the fact that we want some old rope and we shan't mind cutting it, because the young gentleman with the axe is obviously anxious to cut it, as often as it is brought back into place.
(3) Where are we going to do it?
It doesn't much matter as long as we remember two points. Firstly, we do want a couple of convenient trees about 10 feet apart. They can be much slimmer than those the artist has shown, it doesn't really matter; and we also want a clear throw, in other words you can't very well build this in the middle of a forest and hope that the brick will dodge all the intervening trees. Really you want two trees on the margin of a meadow or on the fringe of a forest.
(4) How long will it take?
An hour and a half will be plenty.
(5) Who is going to do what?
Well, there are three main things here. The catapult itself, that is, the wooden part of it. There is the structure on the tree, and there is the firing apparatus with all the pickets and blocks and tackle. Two chaps on each ought to enjoy themselves.
(6) How are we going to do it?
Divide the job up as I have suggested and decide where everything is to be – where the pickets are to be, how high up the tree we are going, and that of course is conditioned by the length of the spar of our catapult – and then get on with it. That spar fixed on to the near side of the tree needs to be lashed firmly and well. Then the rope at the bottom – that is an old rope twisted, and twisted, and twisted until we can't twist it any more. If you can't twist it tight enough by hand the best thing is to twist it on the Spanish windlass principle with a spar used as a lever. The purpose of twisting it is to make it, as it were, elastic, so that it will tend to throw the spar of our catapult when we give the word so to do.
The catapult itself? Well, one long, one medium and one short spar. The last one really a log to give it weight.
The firing apparatus, I think, you can see quite clearly from the drawing. Place the weight in the crutch of the catapult, a couple of Scouts tighten up on the pulley blocks, all stand behind the job – a fair way behind, I would suggest, for the first shot – then the word "Fire!" or "Axe!" or whatever you prefer; down comes the axe and up rushes the catapult, cracks against the spar and our weight goes in a gentle parabola to the far distance – we hope!