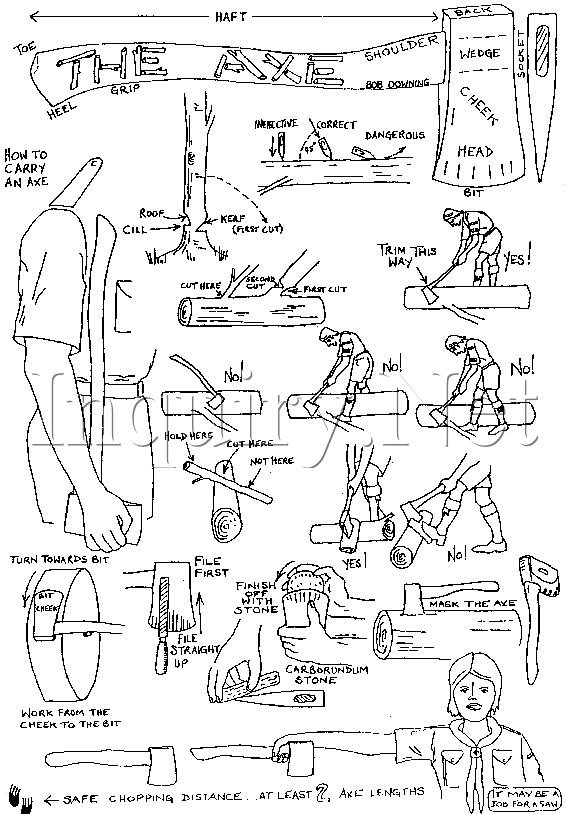 Because of its size and the way in which it is used, an axe can be more dangerous than other woods tools. Remove the sheath only when you are prepared to use your axe. When you are using it, give it your full attention.
An axe must be sharp and in top condition. If the head is loose, soak the axe for a few hours in a stream or bucket of water. The wood in the head will swell, and the handle will be tight for a while. When you get home, drive a wedge into the wood in the head, or replace the worn handle with a new one.
There must be a safe working area when using an axe. Rope the area off. You must have plenty of room in which to swing an axe. Check your clearance by holding your axe at arm's length all around you and over your head. You should have a minimum of two axe lengths clearance around you. Remove any brush or branches that the handle touches. While you are cutting, be certain other people stay at least 3 meters away.
You must practice safe technique when using an axe. Chopping branches off a downed log is called "limbing." Stand on the side of the log opposite a branch. Chop close to the base of the branch, driving the axe into the underside of the limb. Keep the log between you and your cuts. If the axe misses a branch, the blade will hit the log rather than your leg.
Camp Saws
A camp, or bush saw is the right tool for most outdoor woodcutting. Saw teeth are needle-sharp. Treat every saw with the same respect you give an axe or your pocket knife. Protect the blade of a saw with a sheath made from a piece of old garden hose the length of the blade.
Brace the wood to be cut against a solid support. Use long, smooth strokes that let the weight of the saw pull the blade into the wood.
Knives
The best knife for outdoor use has one or two folding blades for cutting, and special blades for opening cans, driving screws, and punching holes. Always follow these rules for safe knife use:
| | |
| --- | --- |
| | Always keep the blades closed except when you are using them. |
| | Always cut away from yourself. |
| | Always keep your knife sharp and clean. |
| | Close the blades before you pass a knife to someone else. |
| | Do not carry a knife with an open blade. |
| | Do not cut towards yourself. |
| | Do not throw your knife. |
See Also: