[click image to enlarge]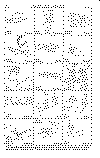 SIOUX--Indian (meaning: cutting off heads). Draw right flat hand across, from left, in front of neck as though cutting off the head. This is the sign of the Sioux or Dakota Nation.
SISTER. Make the sign for FEMALE; then place the tips of extended index and second finger against lips, fingers horizontal, backs up, other fingers and thumb closed; move the hand horizontally several inches to the front.
SISTER-IN-LAW. Make the sign for BROTHER, for HIS, and for WIFE.
SIT or REMAIN. Hold closed right hand in front of and little below right shoulder; then move hand downward several inches.
SLED. Hold the 1 hands, backs down, in front of body, equally advanced, several inches apart, indexes curved, move hands forward simultaneously.
SLEEP. Lower the extended flat hands with a sweep into following position: left hand in front of right breast pointing to right, right hand six inches to right of left, pointing to front and right; then incline head to right.
SLOW. With both palms facing and three inches apart, move hands slowly forward by short stops.
SMALL. If referring to an animal, indicate the height. For small quantity of anything make the sign for FEW.
SMELL. Bring right 2 hand, fingers separated, back up, in front of chin pointing to face; then by wrist action move the hand upwards, so that nose passes between tips of fingers.
SMOKE. For distant or signal fire smoke, make sign for FIRE, and continue raising hand until higher than head.
SMOKE (meaning: to smoke a pipe). Hold left fist in front of body; then with flat right hand held three inches above left strike down two or three times; then make sign for PIPE.
SMOOTH. Make the sign for PRAIRIE, and add ROCK or BLUFF, and WIPED OUT.
SNAKE. Hold right 1 hand at right side, waist high, move hand one foot forward with a wavy motion.
SNOW. Hold extended 5 hands in front of face, fingers pointing downward, lower in circular zigzags, to indicate whirling, sifting snow.
SNOW SHOE. Indicate the shape and size with right index; then make signs for WALK, SNOW, and GOOD.
SOAP. With hands held in front of body, rub them together as though washing them.
SOFT. Make the signs for HARD and NO.
SOLDIER. Bring closed fists in front of breast, thumbs touching; then separate hands horizontally to right and left.
SON. Make sign for man; then with right index pointing upwards, lower hand to indicate height of child.
SORREL. Touch something yellow and make sign for LITTLE.
SOUR. With tip of extended index of right hand touch the tongue; then make sign for BAD.
SPEAK. See TALK.
SPOON. Make the sign for BUFFALO, and leaving right hand in position touch it with left; then use right hand to dip into some vessel, and carry to mouth.
SPOTTED. Hold out flat left hand and arm, pointing right and front; then hold right hand above left wrist, fingers slightly separated; then with right finger tips starting at left wrist, touch left forearm every two inches towards elbow, merely brushing with ends of fingers. Southern Indians lay back of hands on each other, fingers over fingers, then rub them back and forth several times, to represent spotted, mottled, brindle, roan, or any off color.
SPRING (meaning: grass coming out of ground). Make the signs for GRASS and LITTLE.
SPRING (meaning: a spring of water). Make the sign for WATER; then with thumbs and index fingers form a circle in front of body; then, still holding left in position, bring compressed right under the circle, fingers held under the thumb; then release them with a snap to indicate bubbling spring. Repeat last movement.
SPY. Make the sign for WOLF.
STAND. To indicate anything standing upright, bring right 1 hand to right and front and higher than right shoulder, index pointing upwards.
STANDING ROCK (meaning: an agency on the MISSOURI RIVER). Make the signs for STAND and ROCK.