[click image to enlarge]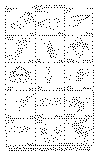 AXE. Hold right elbow with left hand, extend right arm with hand held flat, and make as though chopping.
B
BABY. Place right closed hand across left wrist, palm side up, in position of holding a baby.
BACHELOR. Make the signs for MAN, MARRY and NO.
BACON. Bring extended left hand in front of breast pointing outwards; with right thumb and index clasp base of little finger and rub towards wrist and back again 2 or 3 times; then make the sign for EAT.
BAD (meaning: thrown away). Hold right fist near breast. Throw it out and down to right, and while doing so open the hand.
BAG. Hold left hand in form of opening of bag; then pass compressed right hand into opening. Finish by indicating sides of bag. Demonstrate a large bag by inside of circled arm.
BALD. Make the sign for HAIR. Touch top of head with flat hand. Then make sign WIPED OUT.
BARRACKS. Make the signs for WHITE SOLDIER and HOUSE.
BASHFUL. Make sign for ASHAMED.
BASIN (meaning: depression in the ground). With both 4 hands form a partial circle, then left hand holds position while compressed right hand scoops the ground.
BASKET. Make sign for KETTLE. Then interlock fingers to denote manner of construction.
BATTLE. Make sign for FIGHT, then sign for SHOOT, with both hands pointing towards each other.
BATTLESHIP. Make sign for BOAT, for FIRE, for BIG, and for BIG GUNS. (A flexible modern sign-understood by Indians.)
BAY. (Water). Make sign for WATER, then with right 4 hand out in front of body indicate form or shape of bay.
BAYONET. Make sign for GUN. Then place both 1 hands alongside one another, right index projecting beyond.
BE. Make the sign for SIT.
BEAR. The Crows and some other tribes hold partly closed hands alongside of head to indicate large ears--Others add to this a clawing motion with hands in front clawing downwards.
BEARD. For chin whiskers hang compressed hand below chin-for other kinds of whiskers place hands accordingly.
BEAUTIFUL. The preference seems to be to pass right flat hand downwards over face, then make sign for GOOD-some tribes hold up left hand and look into it as into a mirror.
BEAVER (meaning: tail of beaver striking mud or water). Hold left flat hand in front of body, right flat hand below same, then back of right hand strikes up against left palm sharply.
BED (meaning: spread blankets). Left hand, palm up, fingers extended pointing right front, close to left breast, right hand palm up, on same plane and close to left--move right hand well out in front and to right as though spreading blanket; add sign for SLEEP.
BEFORE, (or PAST TIME.) Point right and left I hands, to left, tandem, in position of TIME, then draw right hand towards the right and rear.
BEGIN. Make the sign for PUSH.
BEHIND. (Sense of time.) Make the sign for BEFORE, showing length of time by space between the hands.
BELOW. Both hands backs up in front of body, the left resting on the right; then drop the right more or less below the left to indicate desired distance.
BELT. Use the hands as though clasping on a belt.
BESIDE or BY. Make sign for WITH.
BET (meaning: to gamble). Inasmuch as the betting assumes card playing, the sign is made as though placing 2 stacks of money or chips.
BEYOND. Bring extended left hand, back up in front of body about ten inches, fingers pointing to right; bring extended right hand, back up, between left and body, same height, fingers pointing to left; swing the right hand outwards and upwards in curve beyond left hand, turning right hand back down in movement.