[click image to enlarge]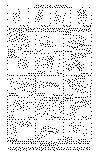 ABANDON (meaning: throw away). With both closed hands held at left side near breast, drop them downwards and to rear, at same time opening them as though expelling some article.
ABOARD (meaning; sitting down on). Hold left hand flat, ten inches from body, palm up. Place right fist on left palm, with little finger down.
ABOVE (meaning one thing above another). Both hands backs up in front of body, the right resting on the left. Then raise the right more or less above the left.
ABSENT. Make signs for SIT and NO.
ABUSE (meaning: throwing lies against one). Bring right 2 hand in front of mouth; move the hand sharply outwards or towards person indicated; repeat.
ACCOMPANY. See WITH.
ACCOST. Make the sign for QUESTION.
ACCOST (meaning: to question). When party is at some distance hold right hand well up and wave to right and left two or three times.
ACHE (meaning: the darting sensations of pain). Push the right index finger over and parallel to the part afflicted; then make the sign for SICK.
ACROSS. The flat left hand, with back up, is held about twelve inches out from body. Then pass the partially compressed right hand over left on a curve.
ADD. Place right flat hand on palm of left in front of body, and lift them upwards several times in moves of about 3 inches, to indicate piling up.
ADVANCE. Point right flat hand forward, palm down, ten inches from body. Bring left hand in same position but between right hand and body. Then move both hands forward in slight jerks.
ADVANCE GUARD (The person in front). Left flat hand ten inches from center of body. Right 1 hand in front of left pointing upwards, then change to 2 hand, and move around to indicate LOOKING.
AFRAID (meaning: shrinks back from). Bring both 1 hands well out in front of breast; bring hands back a few inches and slightly downwards, while curving index fingers. Usually only right hand is used in making this sign.
AFRAID OF NO ONE. Point right index in several directions; then make signs for AFRAID and NO.
AFTER, (or FUTURE TIME.) Make sign for TIME, then advance the right 1 hand past and beyond the left hand.
AFTERNOON. Form an incomplete circle with thumb and index of right hand. Then raise toward a point directly overhead, and sweep down towards the horizon.
AGE. Indicate by showing number of winters. (See WINTER.)
AGENT (meaning: Indian Agent). Make signs for WHITE MAN, CHIEF, GIVE, and FOOD.
AGREEMENT. See TREATY.
AHEAD. Make the sign for BEFORE.
AID. Make signs for WORK and WITH.
AIM (meaning: "From the manner of using weapon"). If with rifle-aim accordingly; if with bow and arrow--bring hands up before breast with motion of drawing bow string.
AIRPLANE. Extend both arms straight out to each side, sway body imitating motion of plane; then swing hand in a curve from waist towards the sky. Then sign BIRD and EQUAL (a flexible modern sign, understood by Indians).
ALIGHT (to). Indicate whether from horse, wagon, etc. Then sweep 2 hand towards the ground.
ALIKE (meaning: that 2 people look alike). Make the signs for FACE and SAME.
ALIVE (meaning: walking about). Bring right 1 hand 10 inches from breast, then by wrist action make 3 zigzags.
ALL. Move right flat hand in horizontal circle from right to left, breast high.
ALL GONE. Point both extended hands at each other in front of breast. Then loosely wipe ends of fingers of right hand across palm and fingers of left, and vice versa.
ALLIANCE. Make sign for PEACE, and if for war purposes add signs GOING, WAR, WITH.
ALL RIGHT. Make sign for ALL and sign for GOOD.