[click image to enlarge]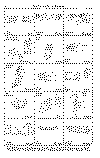 BIBLE. Make the signs for BOOK, MEDICINE, and GREAT.
BICYCLE. A modern sign, like WAGON but with index fingers tandem, then add MAN, ABOARD, GO. Indians vary modern signs.
BIG. Bring compressed 5 hands in front of body, close together, palms in, fingers extended flat, upright, pointing to front, separate the hands-bringing them apart, but keeping them opposite each other.
BIRD (meaning: wings). With flat hands at shoulders, imitate motion of wings. Small birds rapidly, large birds slowly.
BITTER. Touch the tongue with tip of index of right hand and make the sign for BAD.
BLACK. The method most used by Indians is to point to something black. Have seen Indians simply use sign for COLOR as indicating BLACK; others make the sign for COLOR and touch hair or eyebrows.
BLACK FEET--Indians. Make sign for MOCCASIN and for BLACK.
BLANKET (meaning: wrapping about shoulders). Hold the closed hands at height of shoulders near neck, move the right hand to left, left to right, closing movement when wrists are crossed, right hand nearest body.
BLESS YOU. Raise both hands, palm outward, hands pointing front and upward, lower hands several inches, then push them slightly towards person.
BLIND. Place palmar surface of ends of fingers against closed eyes, then sign LOOK and NO.
BLOOD. Bring right hand in front of mouth, first and second fingers against nostrils, move hand downwards with tremulous motion.
BLUE. Make the sign for COLOR, then point to something blue in color, preferably the sky when clear.
BLUFF. Make the sign for MOUNTAIN, raising or lowering fist to indicate height.
BOAT. Hollowed hands held together indicate shape of boat, push out in front to show direction; for canoe make as though paddling; for row boat as though rowing; for steamboat add sign for FIRE.
BOIL (to). Make sign for WATER or FOOD; then sign for KETTLE and FIRE.
BONE. Make sign for the animal for DIE, LONG TIME. Touch part of body that produced bone, then point to something WHITE.
BONNET (war). Carry extended hands from front to rear alongside of head, then carry right hand from crown of head down to below body.
BOOK. Hold both hands in front of body, side by side, palms up, and look at them as if reading. Have seen Indians place palms together and open hands as though opening a book.
BORROW. Make the sign for GIVE (to you or to me) then BY and BY or little while, and then GIVE--meaning, "Give to me a little while and I will give it back." They have no such word as loan.
BOW (meaning: bending bow to shoot). Left closed hand well out in front of body as though holding bow. Right closed hand held just back of same draws the bow string.
BOWL. Indicate shape with curved hands, held close together.
BOY. Make the sign for WHITE MAN or INDIAN, as the case may be, then bring right hand down on right side to height of boy, index finger pointing up.
BRAIN. Touch forehead with first 2 fingers of right hand.
BRAND. With index and thumb of right hand, form partial circle, other fingers closed--then press hand against left shoulder for shoulder brand, or against hip for hip a brand.
BRAVE. Hold left fist 8 inches from center of body, bring right fist six inches above and a little in front of same. Strike downwards with right fist, by elbow action, second joints of right hand passing close to knuckles of left. Some Indians make the signs HEART and STRONG.
BREAD. Make sign for FLOUR. Then clap hands together as though making a cake, right hand on top; then reverse and repeat, left hand on top. The Indian method of making small fried bread.
BREAK (meaning: breaking a stick held horizontally in the closed hands). Hold closed hands together, backs up, then twist right to right, left to left, as though breaking a stick.
BREAKFAST. See EAT.
BRIDGE. Both flat hands, backs down, pointing to front, then make sign for RIVER and sign for ACROSS.
BRING. Move the right 1 hand well in front of body, index extended, then draw hand towards body, while curving index finger.
BROAD. Make the sign for BIG.