By Geoff O'Callaghan

Lay shirt down, fair side of fabric up. Place sleeve on top, positioning centre of sleeve top on sleeve inset join, rough side of fabric up.

Sew one side of sleeve first, then the other, so that the sleeve is correctly placed in the armhole.


Turn correct side out. Trim off excess if necessary. Turn inside out. Seam along arm and down one side. If shirt has front and back tails, sew a seam around the tails to seal off fabric.


Now prepare the sleeves. Turn the tabs in on the cuff ends. Iron them and then stitch them down.

The cuffs are sewn onto the shirt sleeves which are then ready to attach.


The shirt can now be finished. Set the sleeves into the shirt, Sew the sleeves and the sides in one line for each side. Then make the button holes and sew in the buttons. The shirt is then ready to wear.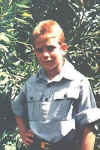 Kynan


Churchie Uniform
An e-book version of these directions can be downloaded from: http://www.geocities.com/ddarrambaxtys/ and is on the first page as an UV Protective shirt.
Geoff Callagan is Group Advisor of the Stanthorpe Avaiators (Areospace Scouts) gocal@halenet.com.au