[ Back ] [ Home ] [ Up ] [ Next ]
Bahá'í
Buddhism
Christianity
Confucianism & Taoism
Hinduism
Islam
Judaism
Shinto
Sikhism
Unitarian Universalism
Wicca
Zoroastrianism
The name of this religion means "learner". Sikhs number about 22.5 million worldwide, with most living in the Punjab area of Pakistan. About 350,000 Sikhs live in the United States.
Origins of Sikhism

Sikhism was founded in India (present day Pakistan) in the late 15th Century by Shri Guru Nanak Dev Ji. He received a vision to preach the way to enlightenment and God. He is responsible for the saying "There is no Hindu, there is no Muslim". For several centuries, the religious movement was lead by a series of 11 gurus. In 1801, the Sikh state of Punjab was founded in Northern India by Maharaja Ranjit Singh. In 1947 the Indian subcontinent was divided into a mostly Muslim Pakistan and mostly Hindu India. This resulted in a mass migration of Sikhs from Pakistan to India and a reverse migration of Muslims. The Sikhs have been seeking an independent homeland since the late 1940's.
Sikh Sacred Texts
The tenth Guru, Gobind Singh compiled the Siri Guru Granth Sahib. It consists of hymns and writings by the first 10 Gurus, along with religious text from different Muslim and Hindu saints like: Kabir Ji, Baba Sheik Farid Ji, Bhagat Namdev, Bhagat Rav Dass Ji, etc. The Shri Guru Granth is considered the 11th and final Guru and the Sikh's holiest religious text.
Sikh Beliefs
The goal of Sikhs is to build a close, loving relationship with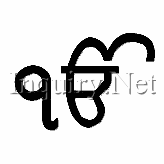 God. This is similar to Muslims. Sikhs believe in a single God who can be known through meditation and prayer. Similar to Hindus, Sikhs believe in karma (the accumulated sum of one's good and bad deeds), in reincarnation, and in the repetitive cycle of birth and death. However, Sikhs reject the caste system of the Hindu religion and believe that everyone has equal status in the eyes of God. Sikhs are prohibited from worshipping idols, images, or icons.
Devout Sikhs are recognizable by their distinctive clothing practices which include long hair, which is never cut and is worn under a turban. Sikhs also are known for wearing ceremonial weapons, including the Kirpan (a ceremonial dagger), the Khanda (double edged sword) and the chakram (a sharp edged ring sword).