[ Back ] [ Home ] [ Up ] [ Next ]
Bahá'í
Buddhism
Christianity
Confucianism & Taoism
Hinduism
Islam
Judaism
Shinto
Sikhism
Unitarian Universalism
Wicca
Zoroastrianism

Hinduism is the world's oldest organized religion. It is also the world's third largest religion, claiming about 13% of the world's population and is the dominant religion in India and Nepal. There are about 1.1 million Hindus in the United States.
Origins of Hinduism
Hinduism does not have a single founder, a unified theology, a single system of morality, or a central religious organization. It consists of thousands of different religious groups that have evolved in India. Hinduism traces its roots to the Indus valley civilization about 4,000 to 2,200 BCE. A major event occurred when nomadic Indo-European tribes invaded India from Central Asia about 1500 BCE. They brought with them their religion of Vedism which later mingled with the indigenous Indian beliefs.
Hindu Sacred Texts
Among the most important of all Hindu sacred texts are writings
called the Vedas. The Rig Veda is the oldest, having been composed by about 1,500 BCE. They contain hymns, incantations, and rituals from ancient India. Another group of primary texts are the Upanishadas. They are a continuation of the Vedic philosophy, and were written between 800 and 400 BCE.
Hindu Beliefs
Hinduism is a polytheistic religion - one which worships multiple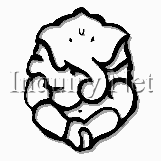 gods and goddesses. These include Brahma the Creator, and Vishnu (or Krishna) the Preserver. Whenever dharma (eternal order) is threatened, Vishnu travels from heaven to earth in one of ten incarnations. Shiva is the Destroyer, and at times can be compassionate, erotic and destructive.
Most urban Hindus follow one of two major divisions within Hinduism. Vaishnavaism generally regards Vishnu as the ultimate deity while Shivaism generally regards Shiva as the ultimate deity. In India, many rural Hindus worship their own village goddess or an earth goddess.
Hindus believe in the repetitious Transmigration of the Soul, or the transfer of one's soul after death into another body. This produces a continuing cycle of birth, life, death and rebirth through their many lifetimes. Karma is the accumulated sum of ones deeds and determines how you will live your next life. Bad deeds can cause a person to be reborn as a lower level, or even as an animal. Through pure acts one can be reborn at a higher level and eventually, one can escape the cycle and achieve enlightenment.