The second most popular religion in the world is Islam at about 20%. Islam is the youngest of the world's very large religions (those with over 300 million members) which include Christianity, Islam, Hinduism and Buddhism. Islam is worldwide but is the predominant religion throughout the Near East, North Africa, and much of Asia.
Origins of Islam
The name Islam is derived from the word "salam," which means "peace". "Muslim" is an Arabic word that refers to a person who submits themselves to the will of God.
Islam was founded by the Prophet Muhammad who lived in what is now Saudi Arabia during the 6th Century CE. He was visited by the angel Jibreel (Gabriel, to Christians) who gave him the task of converting his countrymen from their polytheistic beliefs. Mohammed met opposition to his teachings and in 622 CE he escaped to the city of Medina. The trek is known as the Hegira. Muhammad quickly became a powerful leader and he firmly established Islam throughout Arabia. By 750 CE, Islam had expanded to China, India, along the Mediterranean and into Spain. During the following centuries when Europe was in the Dark Ages, Islamic countries were thriving centers of science and learning.
Islamic Sacred Texts
There are two main texts consulted by Muslims. The Qur'an (Koran) is considered to be the word of God. Muslims believe that it was revealed to Muhammad by the archangel Jibreel. The second text is the Hadith which is a collection of the sayings of Muhammad.
Islamic Beliefs
Muslims worship a single indivisible god, "Allah". Allah is the same God as worshipped by Christians and Jews. Muslims believe that Jesus was a great prophet and teacher but he was not the son of God. They regard worshipping Jesus to be polytheism. Muslims believe that Mohammed was the last of the great prophets.
"Sunni" and "Shia" are the two main groups of Muslims.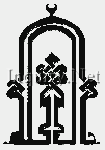 Worldwide, about 90% of Muslims are "Sunni". The minority "Shia" Muslims live mostly in Iran.
Today, conservative Muslims are powerful in some Islamic countries and have imposed strict religious laws including severe restrictions on women. Other Muslims believe these are not part of Muhammad's original teachings. Most Muslims say that vices such as alcohol, drugs, gambling should be avoided. All Muslims believe that they should try to make a pilgrimage to the holy city of Mecca sometime during their lifetime.