You will need two "thongs" (leather strips) about 5 1/2 feet long and a knowledge of the Turk's Head and Boatswain's Plait.

Fig. 1. First, make a Carrick Bend. the ends should be about 4 1/2 inches long to enable the knot to be doubled.


Fig. 2. Now, follow the ends "A" round as lines shown: the letter "X" shows the center for second thong.


Fig. 3. Knot should now look like this.

Fig. 4. Ends "A" now dip into knot at "X" and BACK track strand "Z," weaving with "Z" strand until end "A" starts to make a third strand, stop.

Fig. 5. Cut any ends "A" close leaving knot as shown; with long loop "Z." Your Turk's Head is complete.

Fig. 6. Take second thong and at midway point of thong, push it up through the center of Turk's Head, as shown.
Boatswain's Plait
Using the working ends "B" with the long loop "Z" as a core, make a boatswain plait of about 5 inches in length.
This is really a series of Granny knots tied around the core. Your plait will form a natural spiral as you proceed.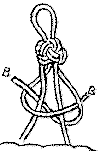 Fig. 7. Start the plait as shown. Pull tight and repeat.

Fig. 8. Diagram shows plait after two bends have pulled tight & a third being formed.
After five inches of plaiting: finish off with a second Turk's Head in a similar manner as the first. You will only have short ends to play with. The second Turk's Head is not so easy as the first one.


Fig. 9. Make your Carrick Bend and thread the remainder of your loop through its center at "X." Then finish off the Turk's Head as before: Figs. 2 & 3, etc.

Fig. 10.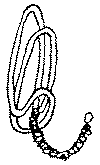 Fig. 11. This is how your finished Bushman's Thong should look.


Fig. 12. This is how it is worn.

Fig. 13.
Order Your Kit From:
See Also:
Traditional Bushman's Thong (or Bushman's Braid) Advancement Requirements