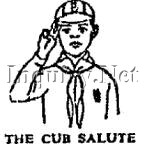 The Pack is in Parade Circle, Akela in the Center, A.C.M.s outside the circle. The Pack standing at ease. The Sixer brings forward the recruit, who stands in front of Akela at the alert, The Sixer returns to his six.
Akela: "Do you want to be a Wolf Cub?"
Recruit: "Yes, Akela, I do."
Akela: "Do you know the Law and Promise of the Wolf Pack, the Grand Howl and Salute?"
Recruit: "Yes, Akela, I do."
Akela: "What is the Law?"
Recruit: "The Cub gives in to the Old Wolf. The Cub does not give in to himself."
Akela: "Are you ready to make the Solemn Promise of the Wolf Cubs?"
Recruit: "Yes, Akela, I am."
Akela: "Pack, Alert. Pack Salute. (To Recruit) Repeat after me;
"I promise to do my best to do my duty to God and to the Queen;
To keep the Law of the Wolf Cub Pack and
To do a good turn to somebody every day."
At the end of the Promise, all come down from the salute in time with Akela.
Akela then shakes hands with the new Cub using the left hand, saying while so doing "I trust you to do your best to keep this Promise. You are now a Wolf Cub and one of the world-wide Brotherhood of Scouts."
Akela then hands the Cub his cap, which he, himself, puts on, and then hands him his cloth Tenderpad badge with a brief word about where it is worn. Akela then asks the G.S.M. to put the Group scarf and woggle on the new Cub, which he does with a few suitable words of explanation and welcome. If the G.S.M. is not present then Akela does this.
The A.C.M. shows him his Investiture Card with appropriate words of explanation and welcome. The Cub collects the card after the ceremony is over to avoid inconvenience while saluting and doing the Grand Howl.
Akela, making sure the Cub has his right hand empty says: "Cub 'Johnnie', about turn. Salute the Pack. Pack Salute (After a moments pause); Back to your Six". Akela then says: "Pack at ease."
When back in his. Six, the Sixer gives the new Cub his Six patch. The ceremony then ends with the Grand Howl, in which the new Cub joins for the first time.
Note. The recruit's cap with badge sewn on and the Tenderpad badges are with Akela. The G.S.M. has the Group scarf and woggle. The AC.M.s have the enrolment card, Group name tape and Area badge. The Sixer has the Six patch. The Totem Pole and Pack Flag (if any) are held by the A.C.M.s or C.Ls outside the Circle. The Union Flag is not used.
It is appropriate to put the recruit's cap on a small log or a Six Box and not on the floor, a table would be out of place.
See Also:
Traditional Training USA
©2003 Baden-Powell Scouts Association