Leader signing at Parents Day.
For additional photos, see Annual
Deaf Scouts' Camp.
Following on from our meeting of 191st Dublin Deaf Scouts Unit and Scouting Ireland Headquarters, We have proposed Jamboree to go ahead in 2006:-
· One of the sub-camps is specifically for Deaf Scouts, run by Deaf Scouters for Deaf Scouts, with a Deaf Scout Sub-Camp Chief, with Deaf Scouts involved from the outset in planning and preparation.
· The sub-camp will join in many of the organized activities

(except activities based on sound as a means of communication), but will also have their own sub-camp program, particularly in the evening, to suit the needs of the young deaf scouts, as appropriate.
Where is the venue?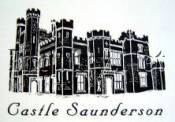 Castle Saunderson, Co. Cavan on the boarder of Republic of Ireland and Northern Ireland.
Proposal Activities program (based on a 10 Day, Deaf Sub-Camp)
Day 1: Arrival and Opening
Day 2: Get to know your area
Day 3 - 9: Activities programs
Day 10: Warp up.
Initially we had hoped to run an International Deaf Scout Camp in 2004, to celebrate our 10th Anniversary, unfortunately, due to time constraints it was felt that the 2006 option would be a much better idea. International interest has been expressed from a large variety of countries to date in relation to a specific Deaf Camp e.g. New Zealand, Czech Republic, Yugoslavia, Austria, Finland and Poland. The 191st will have their celebration camp as planned and hope to invite any Leaders from countries who are interested to attend and check out Ireland for the 2006 Jamboree.
Why a Deaf Scout Sub-Camp?
The aim of this sub-camp will be to promote scouting for deaf children and make other scouts aware of the needs of deaf scouts. We, the Leaders involved in the 191st feel strongly that there should be a sub-camp specifically for deaf Scouters, having attended camps run by 'hearing' scouts over the past 9 years we feel that there is a huge benefit to be gained from a deaf sub-camp.
Deaf children have specific communication needs which can only be met by deaf adults with a full clear working knowledge and understanding of sign-language and the other communication needs associated with working with deaf children and adults.
Deaf Scouters will be involved in the planning and implementation process from the very beginning. The 191st do not wish any special provisions to be made, other than the recognition of their communication needs, leading to certain specific events suitable for deaf scouts e.g. special 'campfires'.
Benefits
It is felt by the 191st that such a sub-camp would promote the interests of deaf scouting (and other disabilities) and ensure that scouts from both Ireland and around the world will get a chance to meet, learn from each other and have fun whilst doing so.
Deaf Scouting encourages deaf young people to perceive and understand themselves as deaf people appreciating their own community and deaf culture. It is only in understanding one's identity that one's self-reliance will be raised, having the ability to join in such an event will go far towards achieving this goal.
In addition this event will give Leaders from Ireland and throughout the world an opportunity to network, learn from each other and work towards making programming for young deaf scouts an even greater success.
This event will also give hearing scouts and Scouters and opportunity to mix with deaf scouts and Scouters, this will help develop a better understanding of deaf young people and adults and misconceptions and prejudices will be eliminated and there will be a better working relationship between hearing and deaf not only in scouting but in society as a whole.
In the meantime we have our new office located in Dublin Deaf Association premises on the third floor to prepare our three years planning for the Sub-Camp Jamboree 2006 a success.
We are in the progress making an information leaflet and brochures with visual information and prices cost…etc.
For more information please write or email to:
Kevin G Mulqueen
Deaf Jamboree Co-Coordinator
Scouting Ireland
191st Dublin Deaf Scout Unit
40 Lower Drumcondra Road
Dublin 9
Fax: +353 1 7979037
Email: kgmulqueen@eircom.net
See Also: