Pine Tree Jim Kabobs
Aluminum-Foil Cooking
Fry-Pan Fish
Woodcrafter Fish
Patrol Hike Chowder
Scout Troop Hike Chili
Candied Apples on a Stick
Banana Short Cake
Hike Chocolate Peppermint
Sassafras Tea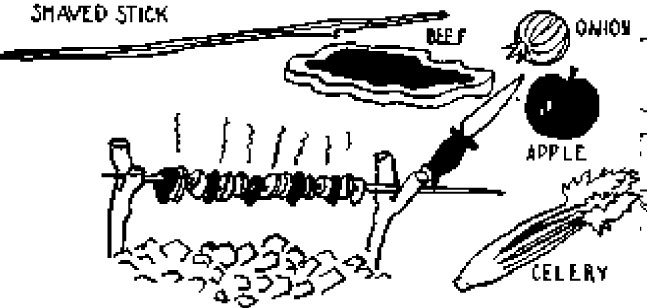 Kabobs! There's a mouth-waterin' word! Say it, and you think of hike cooking right off, `cause the two go together like coffee and cream. Know something else? It made its first bow to the cooking world out in Persia (Iran to you), and Persia, of course, took its hat off to the kabob. After that it gallivanted off to Hawaii, juicy, dripping with flavor, and all, where it met none other than our own Pine Tree Jim "Wilder (former National Sea Scout Director). Did Pine Tree know his outdoor cooking? Yes, sir- from A to Z. Well, that kabob just bowled him over! We have his own word, black on white. After that he wouldn't look at a hot dog, and a juicy hot dog's not to be sneezed at either. Now, back to the kabob and the way it travelled around. Next, it came up smiling in the United States, Pine Tree with it, and that's where the rest of us come into the picture.
Maybe that's enough of this travel talk, let's read what Pine Tree said, and start to make one of those kabobs.
"Cut a twig about two feet long, the size of your finger, that tastes sweet (not your finger, the wood). Whittle the end to a point. Then shave off the bark and growing layer of wood.
"Now you are ready to gently impale upon said stick a chunk of meat, preferably tender beef, cut about the size of a half-dollar - only that's a little too big; but then a quarter is too small; well, make it about the size of thirty cents. Next impale a bit of onion on the stick just to give the beef a delicious flavor. If you like celery or apple better than onion, you may use either or both instead of onion. I like onion. String alternate layers of meat, vegetable and fruit to quench that gnawing feeling under your belt.
"When to salt - thereby hangs a tale. Some say salt before cooking, others after. The originators of this famous meal salt liberally before cooking, thus drawing juices from the meat and vegetables, all of which blend and flavor the whole kabob. So, I, too, salt before cooking.
"Beware! One Tenderfoot starts cooking over a bed of dying coals and eats his quite raw. His partner cooks over a fire big enough to roast a quarter of beef. Still they both say, "Um! It's great!"
Tips
You're using sirloin steak you say? Wow! Wow! They'll be superb. You've decided on round steak instead? Excellent! If only the butcher will pound it for you before cutting it into one inch cubes, it will drip with juicy goodness. But stick close to the butcher and watch - those cubes must be smaller than for sirloin.
For fixin's, quarter an onion, bore a hole in each quarter from the center outwards. Now you can peel off the thin layers. Punch holes in an apple the same way. Begin with a cube of steak on your stick, follow it with onion, apple and vegetable, such as, celery or carrots until you have a quarter of a pound of meat on the stick, 1/2 a small onion, 1/2 an apple, etc.
Prefer your kabob rare, do you? Pack it tightly on the stick. Like it well done? Leave space between meat, vegetables, etc.
Maple, birch and sweet gum woods have little taste, so they're especially good for kabobs. Sassafras and sweet birch are a trifle sweet, but still good. Beware of oaks and most nut-bearing trees! The tannic acid in them makes them taste bitter.
What's wrong with stringing kabobs on heavy wire? Nothing at all.